Robot-Powered Pizza Restaurant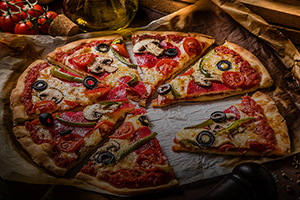 A new pizza chain is on the horizon that will utilize robotics to deliver a more affordable pizza without sacrificing quality. The restaurants will be built around an existing robotic system known as the Picnic Pizza Station, which automates the pizza-making process to deliver a consistent product while reducing food waste.
The new restaurant, called PizzaHQ, further automates the process by interfacing directly with the customer order. Once the pizza is baked, cut, and boxed, it's loaded into a delivery van to be transported to heated pickup lockers at various locations around the city. Customers can then pick up their order by scanning a QR code, or they can utilize third-party delivery services like UberEats to collect their pizza and deliver it.
The planned proof-of-concept model will include a central hub (consisting of four Picnic systems and 50 employees) and five fulfillment centers (with two robots and ten employees each). Service is anticipated to start in the first quarter of 2022 in the area of Totowa, New Jersey. After that, the owners plan to replicate the model in metropolitan areas across the country.