Using Wind to Produce Hydrogen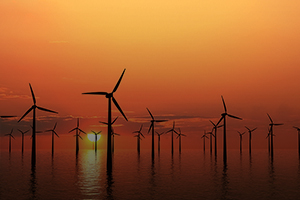 Several global energy companies are looking at using offshore wind generators to produce hydrogen, a move that could help speed up the transition to zero-emissions vehicles and carbon-neutral power plants.
As the cost of installing wind turbines has dropped and the availability of large-scale electrolyzers has increased, utilizing excess wind power to generate hydrogen is a logical next step. Companies like ERM, Siemens, and ITM are planning to equip floating wind turbines with desalination systems to convert saltwater into fresh water, and electrolyzers to split the water molecules into hydrogen and oxygen.
Other innovations in hydrogen production include converting a North Sea oil rig into a hydrogen plant and using piping that's currently transporting natural gas to transport hydrogen instead. While it may take years of development for these technologies to have a real impact, they could all be vital steps along the path to sustainable energy.
For information: ERM Group, Inc., 2nd Floor Exchequer Court, 33 St. Mary Axe, London, United Kingdom; phone: +44-20-3206-5200; fax: +44-20-3206-5440; Web site: Developing green hydrogen power from offshore wind (erm.com) Siemens Gamesa Renewable Energy Parque Tecnologico de Bizkaia, Edificio 222 48170, Zamudio, Vizcaya, Spain; phone: +34-944-037352; email: info@siemensgamesa.com; Web site: Green hydrogen (siemensgamesa.com) ITM Power, 2 Bessemer Park, Sheffield S9 1DZ, United Kingdom; phone: +44-(0)114-244-5111; Web site: ITM Power | Energy Storage | Clean Fuel (itm-power.com)